Kacho no Ma
A Place Redolent of Princely Grandeur
The name Kacho no Ma (Hall of Flowers and Birds) originates in the oil paintings on the ceiling and the cloisonné panels on the walls, all with floral and avian themes. This was once the banquet hall, and is still used mainly for state banquets as well as for press conferences.
Highlights
Cloisonné Medallions of Flowers and Birds of the Four Seasons
The ash paneling from Kiso is mounted with 30 oval cloisonné medallions, depicting four seasons' flowers and birds. The pieces were crafted by the great cloisonné master Namikawa Sōsuke according to a design created by Watanabe Seitei, the iconic nihonga artist of the Meiji era. The enameling achieves the characteristic shading and gradation of nihonga to perfection, and these medallions have been called masterpieces of Japanese cloisonné.
Ceiling Art Fit for Banquets
The painted, coffered ceiling boasts 24 oils by a French artist and 12 gilded panels overlaid with patterns. The paintings at the four corners depict birds and wildlife killed by hunting.
Chandeliers Fitted with Speakers
The heaviest of the chandeliers in the Akasaka Palace at 1,125 kilograms each are fitted with spherical speakers.
Large Credenza of Elaborately Carved Wood
Brought from France at the time of the Palace's construction, this massive cabinet bears the imperial chrysanthemum emblem.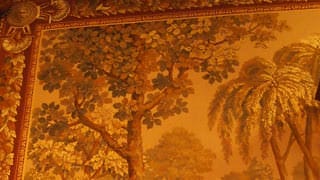 Gobelin-style Tapestry (Tsuzure-nishiki from Nishijin)
Flanking the credenza are tapestries depicting a deer hunt, with hunting dogs.